Mar 25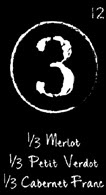 (from a press release from the VA Wine Marketing Office) Richmond, Va. - Team 3, a group of three Virginia winemakers, Matthieu Finot, Emily Pelton and Jake Busching, have released a limited edition red blend of 1/3 Merlot, 1/3 Cabernet Franc and 1/3 Petit Verdot. The Merlot is from Finot at King Family Vineyards, the Petit Verdot is from Pelton at Veritas and the Cabernet Franc is from Busching at Grace Estate Winery.
Bottled to show the unity of the Virginia wine industry, the blend was accomplished through three separate tasting trials to find the right blend of oak and fruit that will age well and be representative of the three unique vineyards. The bright red fruit on the nose changes to lush dark cherry and blueberry as it opens up, and the palate weight and balance speaks of long aging potential.
The fourth release of "3" will be held at Grace Estate on Friday, March 21, 3:33 p.m. to 5.30 p.m. Tastings of this limited production will only be available at the release event. The wine will be sold at the three participating wineries – each winery will have 45 cases for sale at $33.33 per bottle.