On Friday, October 20th I went to a press tasting featuring half a dozen Virginia cideries at Buskey Cider in Richmond. The tasting was the first step in getting the word out about Virginia Cider Week (Nov. 10-19), and I was impressed at both the quality and diversity of the cideries and their products. Anyone who is a fan of quality "locavore" beverages, and of Virginia wine and beer in particular, can find a lot of Virginia ciders they can both enjoy.
Buskey Cider in a renovated industrial building around the corner from Boulevard in the Addition neighborhood of Richmond offers a wide range of ciders with original styles. Their tart cherry cider had an excellent balance of apple fruit and tart cherry, dry with refreshing acidity. I especially liked their citra hop cider, with a very aromatic hoppy (Oregon) aroma, then very dry on the palate, tart with a nice long hoppy flavor but with a fresh crisp finish; ideal for hot weather. They had "oak" and "barrel aged" ciders which I didn't like as much but that's just my palate; for folks who like the texture and flavor of oak, these two will be worth seeking out.
Most impressive for its complexity and balance was their cyser, the term for a mead (honey wine) fermented with apple juice or cider. This one has smoky honey aromas, with sweet, generous mid-palate with floral and honey flavors and a lingering finish. Sweet and with high alcohol (13%) but intriguing, complex and well-balanced (mead comes from the nearby Black Heath meadery). Buskey cans its ciders and also sells growlers to go of its ciders on-tap at the cidery.
Big Fish Cidery is in Highland County (Monterey), making vibrantly fresh, elegant ciders since 2015. Their ciders are available in 750ml bottles but three of them are available in distribution to bars and restaurants on tap in the western half of the state. Explains Sarah Collins-Simmons, "Part of what we're doing is making cider accessible to wine and beer drinkers."
Their Allegheny Gold is a blend of jonagold, gold rush and Arkansas black and Ashmead's Colonel apples. It is smooth and crisp with a nice mid-palate creaminess, well-balanced and semi-dry (1.5% residual sugar) but with a wine-like finesse and balance. It doesn't taste sweet since the sugar balances the tannins on the finish.
I was also impressed with their Church Hill Blush, a blend of local apples and raspberries cold-fermented. The aroma was lovely fresh raspberry, with a nice medium hue pink color. On the palate, it was smooth, juicy and semi-sweet with balancing berry acidity, and despite the majority being cider, you really only taste the raspberry, but in a pleasing proportion.
Courthouse Creek is a family operation in Goochland Co. The two-tone photos on the cider bottles feature owners Eric and Liza and their children. Having made cider in California, Eric and Liza were inspired by a dry Virginia cider they tasted in 2013 to start their own Virginia cidery. For originality, they are the only Virginia cidery producing all their ciders in barrel, with no fining or filtration and very little preservatives. This could be dangerous for a winery, but due to the low pH of ciders, is easier to succeed with in this medium.
Blackberry Lavender has a nice pale purple hue, and hints of spice and lavender aromas. On the palate, the cider is dry but round with a mellow texture from aging in the barrel, featuring flavors of both blackberries and dried lavender. This cider is elegant and wine-like, with lychee flavors like a gewürztraminer but the acidity of a pinot grigio.
Red Barn was another favorite, featuring seven cider apples pressed and aged in wine or spirit barrels for a year in the English country style. It had aromas much like a white Alsatian wine blend with the spice of pinot gris. The palate was dry but creamy, smooth and clean, with wine-like complexity.
Hoppy Girl is intense and distinctive, being dry hopped. It's packaged in a half-bottle and has a deep amber color, due to the addition of molasses. The aromas are strongly hop-driven with spruce and green pepper notes. On the palate, it has lots of hops, but is also creamy and smooth mid-palate, balancing it out and making it seem more typical of bottle-conditioned ale than cider.
Bold Rock Cidery poured two contrasting ciders, their Granny Smith-based Virginia Cider (crisply dry and with distinctive Granny Smith flavors and bright acid), and their peach flavored cider, semi-sweet with very pure peach flavor, well integrated into the dominant apple flavors. I was happy to taste a fairly new product, now in keg format, Orchard Frost, with an orange pumpkin color, just a hint of vanilla/cinnamon on the nose, and subtle fall baking spices on the palate. Doing a spiced cider is tricky, especially if it gets heated up and has cloves, which can just overwhelm the palate, but this was gently and skillfully done. It's easy to sip without getting cloying from either the spices or the sweetness and is a fun seasonal specialty.
At the cidery in Nellysford, they are opening a "Barrel Barn" to the left of the main parking lot on Oct. 28th where they will feature small-lot fermentations only available onsite, and will offer growlers for off-premise consumption.
Blue Bee Cider, around the corner from Buskey Cider, was pouring the stylistic opposites on its menu; the heirloom varietal Harrison, and a port-style "harvest ration" in a half-bottle.
The Harrison, which was rescued from extinction by grafting from the last tree known to exist, is an impressive dry but elegant wine-like cider, with light, elegant aromatics like an unoaked chardonnay, with delicate fruit and firm tannins on the palate, dry, crisp and a lot like a white Burgundy. I'd happily drink this instead of hundreds of ho-hum industrial chardonnays on the market.
**Harvest Ration is made like a classic white port, and drinks like a high-end port with fruit, oxidation, acidity and oak in perfect harmony. Cider maker Manuel Garcia explains that this cider, made from bittersweet apples, is fortified with some of its own base that has been distilled (to 18% alc.), with 11% residual sugar, then aged in the barrel for a year before bottling. On the nose, a lively and impressive blend of components: apples, spirit, and barrel in fine balance. On the palate, an outstandingly successful port style cider, which delivers the acidity and tannin to balance the other elements. At $33/half bottle, it's not cheap but if you want a category leader that is both original and classic, I recommend this for a Thanksgiving dessert (if there are no more than four people).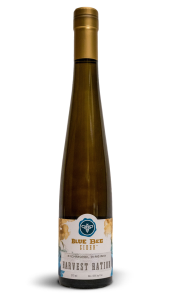 Virginia Cider Week 2017 will feature events around the state every day from Nov. 10-19. More information is available at http://ciderweekva.com/events/.
**= Very highly recommended